"The P&P U.S. Consumer Floral Tracking Survey"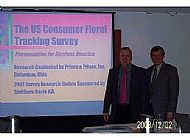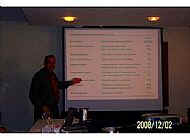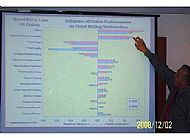 Dedicated to helping the U.S. floral industry re-build the floral market, holiday by holiday, occasion by occasion, and through no occasion at all! (self-usage of floral, and for home decoration)
The Prince & Prince U.S. Consumer Floral Tracking Survey (2014 Edition) is now be available in two seminar options: 1) Full-Day On-Site Seminar Presentation, with a Q&A session, and 2) the "Seminar on Flash" Presentation (no on-site presentation, nor Q&A session). Please contact P&P for current pricing for these seminar options.
Click HERE for 2014 On-Site Seminar Details!
Click HERE for More 2014 Consumer Survey Details!
The 2014 P&P U.S. Consumer Floral Tracking Survey
Prince & Prince (P&P) has surveyed several thousand floral-buying households throughout the U.S. over the past decade, and most recently in Summer/ Fall of 2013 (update planned for Summer 2018, reporting later in 2019.) The P&P analysis & reporting provided in this seminar gives floral industry members reliable and insightful floral market intelligence, and floral-channel competitive intelligence, to assist them in their business decisions. The following details the type of market information provided in the seminar.
1) Floral Purchasing Metrics - - Shows members of the floral industry the type of consumer who buys floral products, what they buy, where they buy, when they buy, why they buy, and how much they spend. . . Shows what has changed in consumer floral purchasing (for fresh cut-flowers & indoor potted plants) from 2007, to 2010, and thru 2013! Consumer floral metrics tracked before & after the U.S. recession! . . . and findings profiled for five key regions of the U.S., and by key consumer demographics.
2) Holidays, Events, and Occasions of Floral & Plant Purchases - - Reveals the level of household flower & plant purchasing for Thanksgiving, Christmas, Valentine's Day, Easter, Mother's Day, Secretary's Day, Birthdays, Anniversaries, Parties, Thank-You Gifting, Proms/Dances, Home Decoration, Self-Usage, and 10 other occasions & events, overall, and by specific age, education, income, urban and regional segments. Shows how household floral & plant purchasing for these holidays, events, and occasions has changed since the U.S. recession, and uncovers new opportunities for more sales.
3) Floral Channel Market Shares - - Answers the question . . . "Of the total pie for consumer cut-flower and potted plant spending, what share do florist shops, supermarkets, and other mass-marketers now claim?" Identifies specific cut-flower & potted plant shares for Florist Shops, Supermarket Florists, Super-Discount Stores, Internet/ 800-Numbers, Garden Centers, Home/Hardware Centers, Wholesale Clubs, Farmer's Markets, Mail-Order Catalogs, Street Vendors, and Convenience Stores. . . and identifies the change in those floral-channel shares over the past decade! Reveals the trending market strengths and weaknesses of key floral channels in the U.S. marketplace.
4) Floral Channel Positioning - - Shows how consumers perceive the floral offerings, quality, selection, services, value and image of florist shops, supermarkets, Internet, and various other mass marketers (over 30 evaluative measures across 8 channel classes) . . and reveals how that consumer perception toward the channels has changed over time. . . Shows the floral channels with improved market positioning. . . and those showing declines. Identifies potential "remedies" to improve a channel's market positioning.
5) Consumer Satisfaction & Buying Intentions at Each Channel - - Reveals the floral channels that most satisfy consumers today. . . and shows those channels that largely generate dissatisfaction among consumers. Identifies the floral channels that are retaining customers with repeat purchasing, and reveals those that are predicted to lose customers. Also shows those channels that are gaining and losing floral customers at the same rate (Churning).
6) Consumer "Drivers" to Floral Purchasing - - P&P not only provides floral industry members with descriptive information about consumer floral purchasing and perceptions toward the various floral channels, but P&P also creates structural models with the consumer floral database to reveal the floral-product offerings, services, and perceptions of the channels that drive consumer satisfaction and purchasing at the floral channels. . . currently, and how that compares to prior to the U.S. recession. Shows the areas where retail florists, supermarkets, and other floral mass-merchants should now focus to gain more floral sales . . . and to gain repeat purchasing. By revealing the priorities of the marketplace (drivers), market opportunities in serving those needs are readily identified.
7) Demographic Profile of Floral-Buying Consumers - - Reveals the key consumer groups that are currently leading the U.S. floral trends. . . and shows how they have changed over the past decade. Also shows how current floral-purchasing behavior varies across consumer demographic groups (five U.S. regions, age, income, education, urbanization, and household-composition groups). Provides floral industry members the "macro" and "micro" view of consumer floral purchasing behavior in the U.S., and identifies the most lucrative target segments for floral buying!
Key Implications of the P&P Consumer Floral Market Research
| | |
| --- | --- |
| | Allows floral industry members to "benchmark" their business performance with the overall consumer floral marketplace. |
| | Reveals current consumer floral-market trends to sharpen your floral marketing, operations, and distribution strategies. |
| | Identifies opportunities to further penetrate your existing markets. |
| | Identifies possible new product and market-development opportunities for your business. |
| | Builds confidence in management for your chosen business strategy, or identifies possible changes in that strategy to ensure your business success. |
Floral Industry Members . . . please review the seminar information above, and then let P&P know if you have interest in this on-site seminar presentation. The fees charged for the P&P Consumer Floral Tracking Seminar vary depending on whether the seminar is sponsored by one company, or a group of companies collectively, the number attending the seminar, and the length of the seminar (half-day, "highlights only" presentation, or full-day, complete seminar presentation ). Please contact P&P for a quote on seminar fee options for your particular on-site seminar venue. If you have any questions, just e-mail P&P at FloralMktResearch@att.net or call P&P at 614-299-4050 (Mobile: 614-264-0939).
Seminar Also Now Available on Flash Drive - Contact P&P